Arcus
TM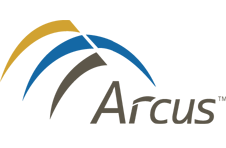 Flexible Systems for Law Enforcement
ArcusTM is a Records Management System (RMS), with Computer Aided Dispatch (CAD) available, designed to give law enforcement agencies the flexibility to operate according to their own procedural requirements, not limited by their software. Powerful standard features have been incorporated into ArcusTM which allow each individual agency to implement its own agency-specific configuration of the system. In addition, ArcusTM is always fully customizable, giving our client agencies a software product that conforms exactly to the way their agency runs.
Benefits of ArcusTM
• ArcusTM is flexible, giving our client agencies the ability to have a customized configuration
• The end of searching for the closest fitting system, ArcusTM is customizable, designed by you
• Intuitiveness and ease-of-use saves records clerks time, translating into budget savings
• "Birds-eye-view" design saves time and effort
• Two distinct search modules provide simple, powerful and comprehensive searches
• Standardized technical platform provides ability to share data with external agencies
• Anima Solutions becomes a technology partner, willing to listen and get to work on solutions
Please take a look at the following screen shot of the Master Name File. We'll use it to describe some of the features found in modules throughout the ArcusTM system.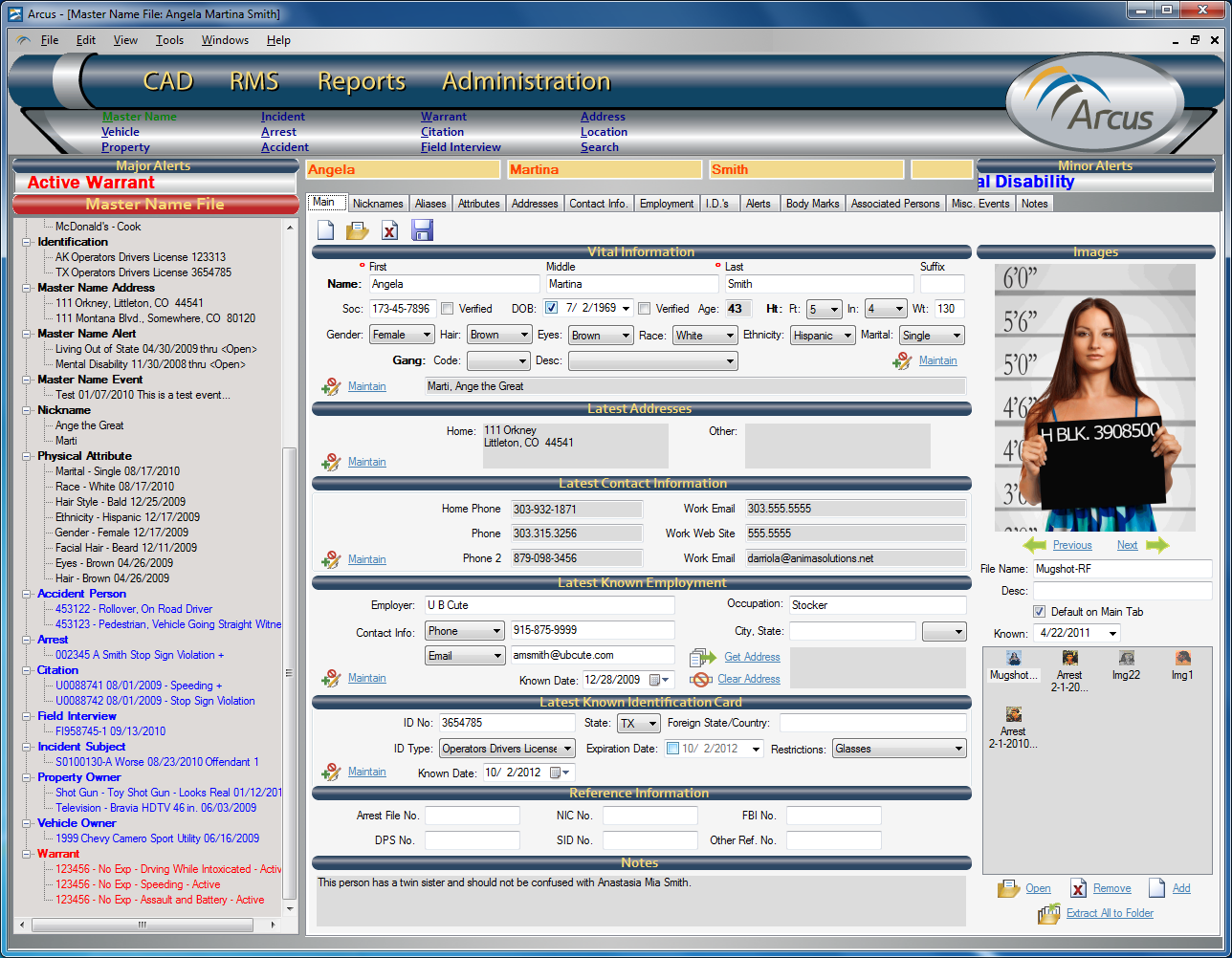 1.

Menu Bar. Always-on-top Menu Bar provides easy access to modules while not having to close the window displayed.

2. Scrolling Alerts. Select modules contain administrator-defined Major and Minor Alerts.


3. Tabs. Information related to the record is organized with tabs across the top.


4. Side Bar. All modules contain a list of all files and items associated with that record at the left of the screen. This gives the user an overall view of the open record. The references in black are contained in the Tabs of the open record, while the ones in blue are records of other modules. Those in blue can be double-clicked to open the related record.

The background colors of the Side Bar of each module are unique to help the user instantly distinguish between the ArcusTM modules.

5. Images and Documents. Select modules allow Images and/or Documents to be attached and saved with the record. Image icons can be clicked to view the image in the picture box at the top. Documents and Images can be double-clicked to be opened by the associated Windows program. In Master Name File, all images related to Arrest records are automatically displayed.

6. Information Grouping. Information is grouped by category for easy glancing.

Other Common Features

• Required fields are labeled with * as well as other symbols which signify other requirements.
• Boxes with a yellow background are read-only.
• Note fields are always read-only in the Main Tabs to encourage use of more appropriate fields.
• All dates can be entered using a calendar view.
• The vast majority of drop-down list items are configurable by your agency.

Application Features

• Integrated Windows Domain Security. Users log in with the same User Name and Password as they use to log on to their Windows network.

• Flexible Permissions. Can be configured to permit or deny access down to any module, any table, any column and/or specific functions such as read, update or create new.

• Multiple Window Interface. More than one record of the same module can be opened at once. For example, the Master Name Files of two separate persons can be open in separate windows.

• Scalable, Customizable and Expandable. Pay for no more than what you need, and get everything you need. Anima Solutions is always willing to give you a customized solution.

Technical Platform

• VB.Net Windows Application
• Microsoft SQL Server database
• N-Tier architecture
• Windows Communication Foundation (WCF) technology
• Web or Remote Access ready
• Utilizes some Windows Presentation Foundation (WPF) components

There is so much more to show you! Please contact us to set up a demo of ArcusTM or to find out more about us or our products.
Announcement!
We're currently looking for recommendations for software products to fill specific needs in any industry.
If you have identified such a need in your industry, please contact us to let us know.
We can provide you with a system designed exactly to your specifications... and it could end up costing you relatively little or even nothing over time!
Ask us about our incentives for new software products.
Don't let this opportunity pass you by... Contact us today!