Schedule Update Utility

for Builder 360® *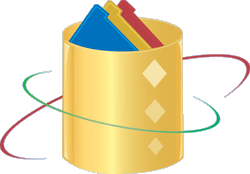 The Schedule Update Utility is designed to update multiple live Job Schedules in the Builder 360® system for home builders from an updated Schedule Template. The procedure intelligently updates schedules that are in process without removing critical live schedule information.
Often times in construction, processes change because requirements change, or someone has found a way to become more efficient. Every time this happens, the Schedule Templates in Builder 360® need to be updated so that every Job Schedule going forward can reflect the updated process. But what happens to Job Schedules already created? If you delete them and create them again with the updated Template, you lose your completed task information. The Schedule Update Utility solves this problem and prevents you from having to update live Job Schedules one at a time, manually.
The utility interface is powerful and easy-to-use single screen that gives you all the choices you need to easily mass update your Job Schedules. Make your choices at the top of the screen and then let the Schedule Update Utility do all the work for you. You don't need to think about how the live Job Schedules should be updated, the Job Schedule utility knows how the scheduling module works and analyzes everything for you.
Just set the parameters, retrieve the Job Schedules to work with, select the ones you want to update, click "Execute" and you're done! It's that easy.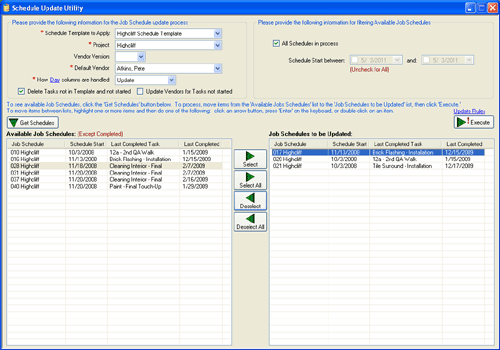 * Builder 360 is a registered trade mark of Constellation HomeBuilder Systems
Announcement!
We're currently looking for recommendations for software products to fill specific needs in any industry.
If you have identified such a need in your industry, please contact us to let us know.
We can provide you with a system designed exactly to your specifications... and it could end up costing you relatively little or even nothing over time!
Ask us about our incentives for new software products.
Don't let this opportunity pass you by... Contact us today!
© Copyright 2006-2011, D.A. Custom Software, L.L.C.
Anima Solutions is an assumed name of D.A. Custom Software, L.L.C.