Punch Trakker
TM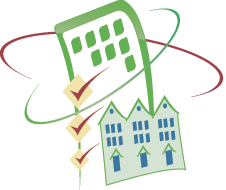 Practical, Powerful Punch List Management
Punch TrakkerTM is a customizable Punch List Management application, designed from two basic efficiency-providing principals... practicality and power. When building a 1,000-unit hotel or a 400-lot residential project, these are two of the first things a general contractor needs from quality assurance software.
Punch TrakkerTM is practical in part because it is designed as an Occasionally Connected Application, or OCA. There is no need for an "always on" internet connection or even a network connection in order for the application to be fully functional. Users simply synchronize to the master database after collecting data at the work site. Punch TrakkerTM is also practical because one installation of one version of the application can be installed on any desktop or portable computer running Windows. This design gives all users updatable access to all information, at all times.
Punch TrakkerTM is powerful in part because of its elaborate, 5-tier hierarchy. This design allows our clients to define their own hierarchy, allowing them to organize and view their information in various ways. For example, a manager of a multiple-building construction project can compare the issues in Building 1 with the issues in Building 2, in a summary type of report. At the same time, the system allows the sub-contractor to focus on the details of a bathroom within a single guest room.
Functionality of our Punch TrakkerTM application can be summarized within three basic tasks:

One-time configuration of Organizations, People, Projects and Punch List Templates is what gives Punch TrakkerTM its powerful time saving capabilities. Set up is basic and straight-forward, and when complete, entire construction projects of any size are at your fingertips.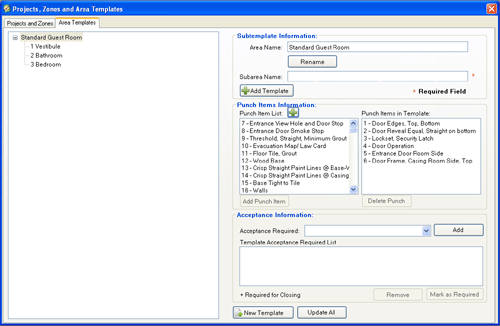 Configuration Features
• Project, Zone, Sub-Zone, Area, Sub-Area hierarchy
• Creation of multiple Punch Lists at one time
• Includes Address Book and Standard Note files
• Allows tracking multiple projects
• User-defined number of inspections per Punch List

Gathering information while walking Units or Jobs is practical and simple, in part because Punch TrakkerTM is designed as an Occasionally Connected Application (OCA) for any laptop, mini-notebook or tablet PC running Windows. No internet?... No PDA?... No problem.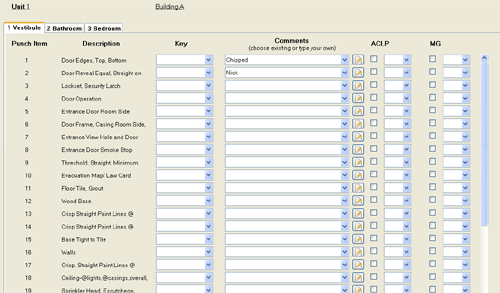 Inspection Features
• Full application designed to run on laptop, mini-notebook or tablet PC
• Easy on-site creation of Punch Lists from Template
• Keyboard-free Punch Item entry at time of inspection
• Functions even when no network or internet connection is available
• Allows entering missing Set Up items at construction site, if necessary

As an Occasionally Connected Application (OCA), Punch TrakkerTM is designed to allow multiple users to synchronize information collected in the field to the Master Database. Office staff can then distribute Punch List problems to responsible sub-contractors and generate management reports.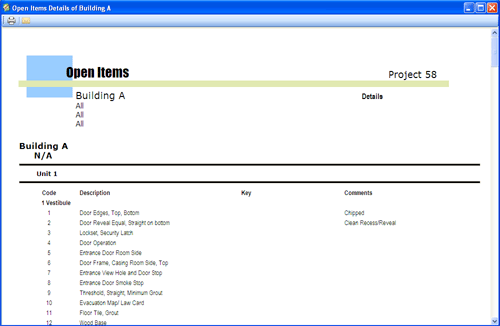 Information Sharing Features
• One-click Synchronization of remotely entered data
• Multi-user design for field and home office data processing
• Email reports directly from Punch TrakkerTM
• Track inspection progress through Summary and Detail Reports
• Hierarchical generation of Reports by Project, Zone or Sub-Zone
Announcement!
We're currently looking for recommendations for software products to fill specific needs in any industry.
If you have identified such a need in your industry, please contact us to let us know.
We can provide you with a system designed exactly to your specifications... and it could end up costing you relatively little or even nothing over time!
Ask us about our incentives for new software products.
Don't let this opportunity pass you by... Contact us today!